What is a CMOS?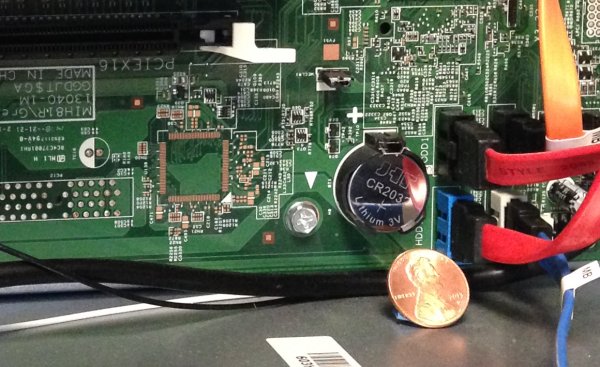 You can read in more detail about that question here: http://en.wikipedia.org/wiki/CMOS.
There are two major ideas behind CMOS. One refers to the circuitry that allows digital cameras to collect the light that produces the pictures taken. I will not be talking about that one today.
This topic is about how to replace the battery that keeps the CMOS in your computer working properly.
I don't like to explain things in technical terms. So, even if you are a scientist who would understand all the jargon, I would talk to you in "plain" English (or as close as possible.)
Here it goes. The CMOS I am talking about today is a "memory" chip that remembers things about your computer settings. It may remember the amount of memory your system has. It may remember the type of hard drive and if your system starts from it, etc.
It will also remember the date and time.
Why is a CMOS important?
The reason this CMOS is important is that without those few basic settings your computer would not know what to do when you turn it on. These basic settings are stored (or remembered) as long as there is power (electricity.) Because your computer may be powered off or disconnected from the wall the CMOS needs this additional source of power.
Yes. Modern computers are designed in such a way that it will relearn everything it once new about your computer each time you turn it on. And if you have a valid internet connection, it will ask someone (a server) on the internet for the correct date and time.
A battery, much like the ones you may use on a watch or small flash light will provide enough power to the CMOS to keep it from forgetting these basic settings. And it will help your computer start faster than if it had to relearn everything again and again.
Unfortunately the battery does not last forever. It may last up to five years but it will eventually die.
Problems Stemming from a Low or Dead CMOS Battery
When it does die, you system may become sluggish, or confused. Some websites might not even load because the time on your computer does not match theirs.
The date and time is very important for websites that rely on encryption such as your bank.
Of course you can reset the date and time yourself, but eventually you will become tired of doing that.
Changing the battery fixes all that. Most people don't even know that there is a battery in their computer. Surprise!
Here's how to change a CMOS battery on your computer:
Turn your computer off and open the case by removing the side lid. Hint: it's the opposite side to where all your wires are connected. You may need to remove a screw or two.

Locate the battery on your motherboard. It looks like a coin and it's about ¾ of an inch or 2 centimeters. Your system may be slightly different. See pictures of both, motherboard and battery above. Laptop battery photo is below.

Remove the battery, and take it to your favorite grocery store to buy one just like it. Or make a note of the number and voltage before you go buy one. Example: 3V CR2032. Again yours may be slightly different.
Pop in the new battery. Close your case and start it back up.
Reset anything that might need to be reset. Usually by pressing the "F1" key or similar. And change the date and time one last time. And you are all set – for another 3 to 5 years.