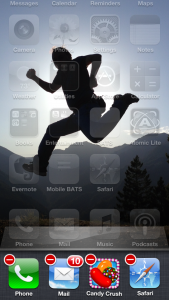 Email on my iPad is not responding to finger commands. It loads and updates but will not open to let me read anything nor move from one email to another–nothing. Both my personal email provider and Gmail on my PC are working just fine so it's got to be a problem with the iPad. Can you help me?
Answer:
Option 1) Double click on the home button. Touch and hold a tile from the bottom row. When the tiles start wiggling, tap the "minus" sign. that will close the app. Close all the open apps this way. When done, click on the home button again to return to normal operation. Start your email to see if it helped.
Option 2) If the above did not work, depress the "power" button and keep it pressed until the "Slide to power off" option shows up. Slide it, wait until it powers off. Press the power button again to turn the iPad back on. Use your email again.
If this was helpful to you, please do these two things for me:
1) Send this article to a friend you know would benefit from this information.
2) Make sure you sign up to receive  more helpful tips from me. Enter your email and click, "Sign me up!"