In POP (Post Office Protocol) email setups, there is a setting that allows you to keep a copy of your email on the server.  This makes it easy for you to check your mail from another computer when you are not home.
Checking email from the library, a hotel, or a friend's computer is convenient, but it requires you to leave all your mail on your provider's servers. This can presents a problem when your email storage quota is depleted. So, it is advisable to keep your inbox with less than 90% of your quota by removing or deleting large or unnecessary email.  A task that is tedious and usually untimely.
If you do not need to check your mail from anywhere but home, you can avoid this annoyance all together.
Follow the steps below for am experience free of quota problems.
First, right-click on your personal email account (1). A pop-up menu will appear. Then, click on "Properties" at the bottom of that pop-up (2).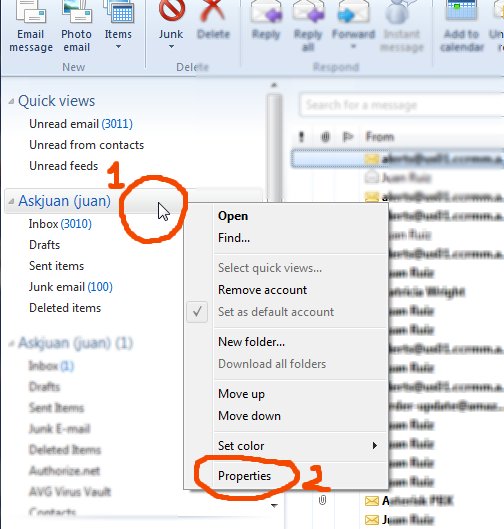 The next step is to click on the "Advanced" tab from the properties window (3). And finally, clear the check box (4) that reads, "Leave a copy of messages on server."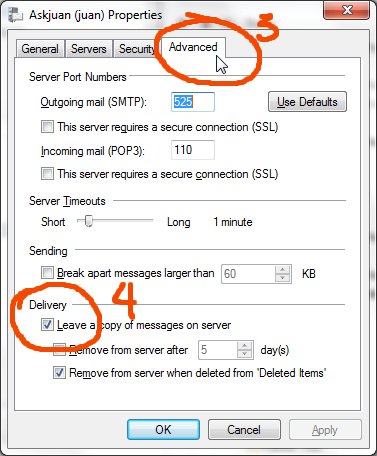 This will tell your computer to remove the messages from the server once downloaded to your computer.
Do you still need to read your messages on the road?
Step number four above can be modified to: Check the "Remove from server after [ X ] day(s)." So that your email remains available remotely for that many days after your computer retrieves email.  After the time expires, the items on the server will be removed automatically.
If you never open your Windows Live Mail at home, these settings have no effect.  The emails remain on the server indefinitely.  The rules are applied as soon as you download your messages from the (home) computer.