Registration is now open:

"Master Your PC"
(The instruction manual that should have come with your computer)
… a coaching program with Juan Ruiz.
It's a hands on hand-holding opportunity to harness my experience and knowledge to your advantage.
In other words, have me to teach you for a full 8 weeks for a fraction of what it would cost if you hired me one-on-one for $200/hr.
These are some topics I will be covering in the 8 week Coaching Program:
Navigation – Fundamental Techniques (Finally answer the age-old question: should I left-click or right-click?) Master this and the rest is "easy peasy"
WTF? (Where's The File) File management ins and outs. Learn how to make files easy to find.
Wait a minute… Back that up. (BACKUP and Restore Important files and digital photos) How to recover from a catastrophe.
Internet Basics – Security and Safety
Email – Crash course in electronic communications
Hardware – PCs, Monitors, Keyboards and Mice – Peripherals – Printers, Modems, WiFi Routers
Review your new skills – Get creative with your computer
Master Your PC for $165 today
and two additional payments of $165.
– or save $100 by paying in full $395.

60 day 100% Money Back Guarantee: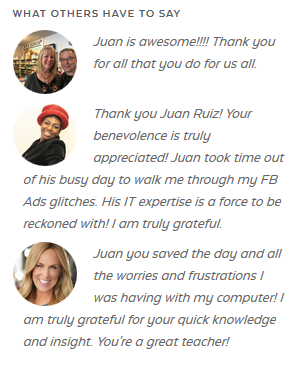 This is a hands on coaching program designed to help you achieve more with your computer.
If you feel you did not benefit from my coaching, just send me an email and I will return 100% of your money.
DO NOT sign up if you are not ready to improve your computer skills. Otherwise, there is no risk on your part.