Welcome PMGS Fans!
What I hear most often from my customers and personal friends is:
"What can I do to protect my computer?"
In the past, I used to break into a sweat trying to think of all the possible things you can do to protect your computer.  "Where do I start?" I would ask. Then I would spend some time asking questions like, "What do you do with your computer?" and, "How much surfing do you do?" and, "What kinds of websites do you visit?" etc,.
After a while, a pattern of common uses and behaviors appeared. I realized that there's only a handful of steps that you can take to protect your computer.
And that is the reason why I wrote this handy guide: "Computer Protection Guide – The 5 simple steps you can take to protect your computer"
I'm giving it away for FREE.
All I ask is your best email address so I know where to send it.
Click on the image below to request your FREE Guide.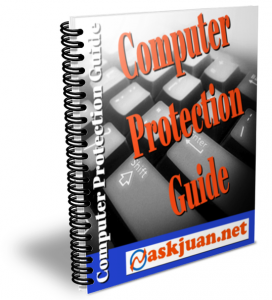 Why am I doing this?
First, I think the information I'm providing you is very valuable. It can help you save money from unnecessary repairs. You can't imagine how many repairs I do that could have been prevented by following one of those simple steps.
Second, my philosophy is, "People do business with those they know, like, and trust." Therefore, I am hoping you get to know me and do business with me in the future. Think of this guide as an introduction to the excellent work I do. If you like the material, you might even like me. And finally, if all the stars are in alignment, you'll honor me with your trust.
Third, you will be helping the Peninsula Men's Gospel Singers because their revenue comes from patrons and advertisements like the one that prompted you to visit this website.
It's a win, win, win.
Click here to request your Computer Protection Guide
Bonus material – My gift to you for downloading the guide
When you download the guide I will add you to my email list. Where I share my knowledge and insights about current technology. I answer questions from my readers and send occasional promotions.
I realize this might be just another thing that lands in your inbox, but I ask you to give me a chance. I might even teach you how to deal with unwanted emails. And if you truly don't get any value from my mailings, simply unsubscribe. My goal is to provide you value and increase my business, not to annoy you with something you don't want.
Ready to win, win, win?